Covid-19: No singing inside NI schools after Easter break
Schools have been told that no singing can take place indoors when pupils return after the Easter break.
The instruction from Education Minister Peter Weir prohibits pupils singing individually or in choirs.
However, pupils will be allowed to sing outside alone or in choirs as long as they are socially distanced.
Mr Weir said the decision had been taken on the advice of the chief medical officer and the Public Health Agency (PHA).
Playing wind instruments, such as recorders or flutes, and brass instruments, such as trumpets, is also banned indoors.
In a letter to schools, Mr Weir said the decision would be "kept under review".
School choirs in Northern Ireland had previously been permitted to sing indoors during the term from September to December 2020 as long as social distancing and good ventilation were in place.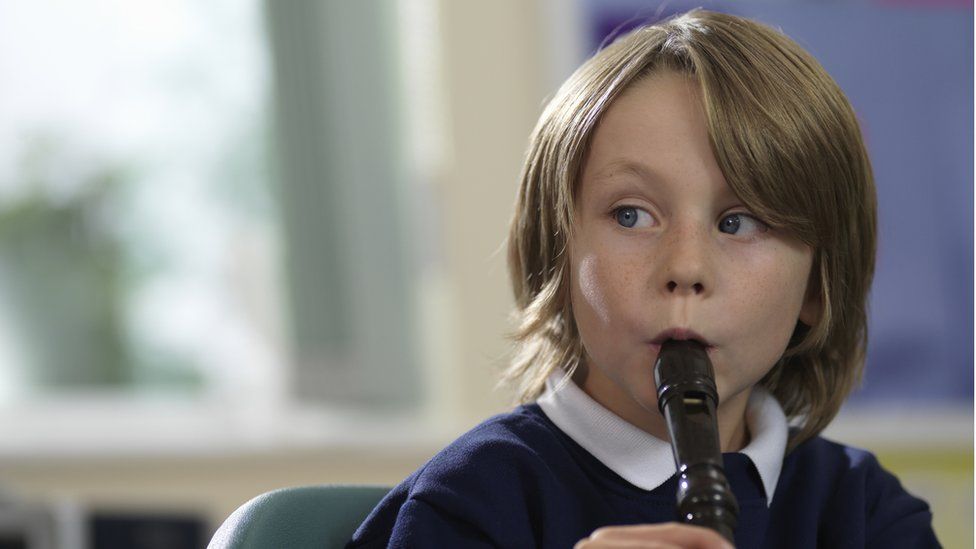 Separately, the Education Authority (EA) has told schools that face-to-face music tuition will not resume as planned after the Easter break.
"We have been instructed by the Public Health Agency (as of Tuesday 30th March) to delay the resumption of EA Music Service delivery in schools and music centres, which was due to re-commence during the week beginning Monday 12th April 2021," a letter from the EA music service to schools said.
"This decision has been based on emerging data regarding the new Covid variant.
"This will be reviewed by the PHA on a weekly basis and we will update schools accordingly."
In his subsequent letter to schools on Thursday, Mr Weir also said discussions were taking place with the Department of Health on when breakfast clubs, education visits, inter-school sports and after school activities could resume.
"There are also further discussions to finalise plans for a swift resumption of extra-curricular managed outdoor sports training within schools," he said.